Introduction
This topic will guide the learner through the treatment decision making process that is preceded before the actual treatment begins. It is incorporated with the Module 1 whereas the student will firstly be reminded of the factors underpinning the treatment intent, followed by the different patient cases and treatment options suitable to them including the knowledge of hereditary breast cancer. Also, the learner will gain knowledge of the importance and role of multidisciplinary team decision making.
Learning outcome: To demonstrate advanced knowledge of the principles underpinning the definitive diagnosis (laboratory tests, diagnostic imaging) of breast cancer, treatment intent and treatment methods most appropriate for the breast cancer type as well as to argument the need of multidisciplinary team decision making.
Learning material: Breast cancer diagnosing and treatment intent
Take a look at a flowchart/process map of an example (Tartu University Hospital) of how breast cancer treatment pathway may be established in a clinic. Note that as they are generally developed based on international guidelines (ESMO,NCCN) they are accommodated to a particular clinic`s work arrangements.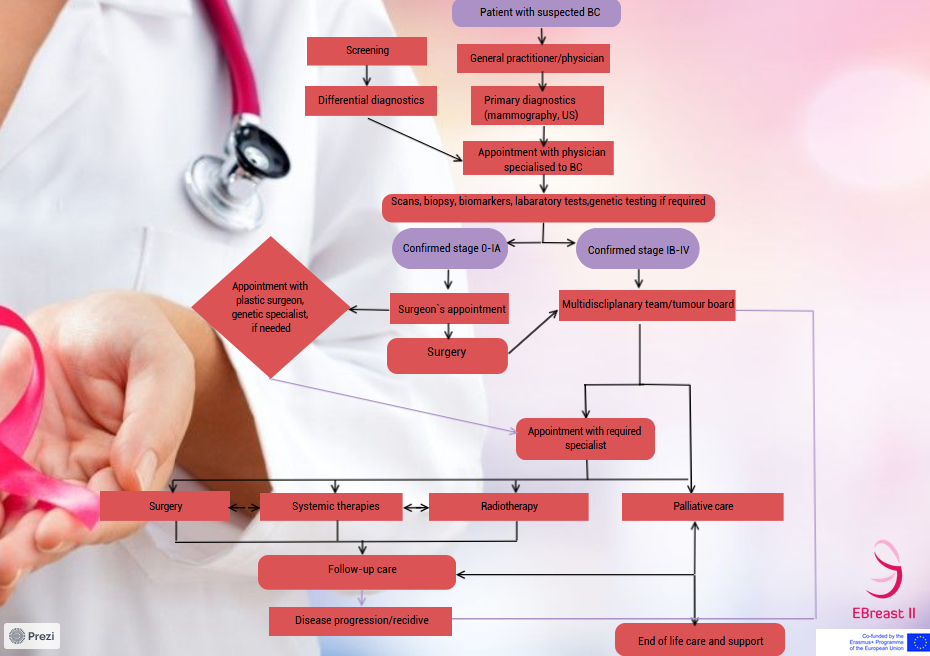 The flowchart is an illustrative material of the process. Different steps are not clickable*
For the overview of which factors underpin the treatment intent of breast cancer, please see the Prezi presentation from Module 1: "Care and treatment pathway"
The following Prezi presentation introduces the learner four different cases of breast cancer and common treatment approaches.
Also see further information regarding Breast anatomy and Pathology from EbreastI
Listen to the following podcast regarding hereditary breast cancer diagnostics.
Tip! See also Ebreast learning materials of Oncogenetic consultation.
Learning material: Multidisciplinary team decision making in breast cancer treatment
See the following presentation about the role of multidisciplinary teams in breast cancer treatment.
Mandatory reading
The exam also includes questions from article below. It should take about 30-45 minutes to read through the article.
1. Rajan S, Foreman J, Wallis MG , Caldas C, Britton P 2013 Multidisciplinary decisions in breast cancer: does the patient receive what the team has recommended? British Journal of Cancer 108, 2442–2447.
While reading, try to answer the following:
What is essential to provide for the MDT team to enable robust decision-making?
---