Introduction
In this topic the learner is introduced to the principles of patient safety related to breast cancer treatment. A gentle introduction to software safety is included in this topic.
Learning outcome: To demonstrate knowledge of principles of quality assurance systems and software safety related to breast cancer treatment.
Learning material and test your knowledge
The following prezi presentation introduces the learner to treatment safety. Please click on the link and navigate inside Prezi presentation by using arrows below the presentation to proceed logically.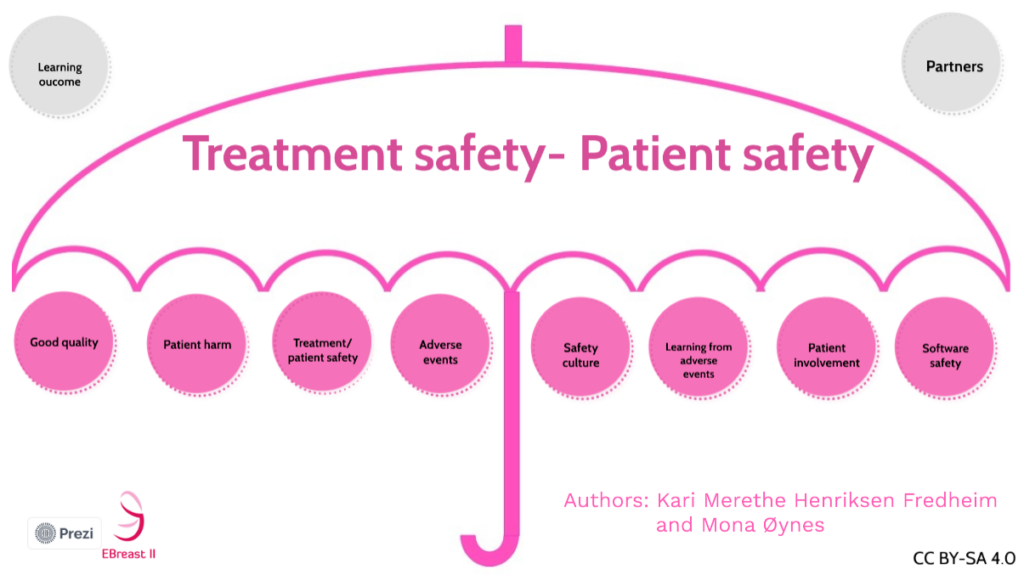 A narration of the voiceover that accompanies a Prezi presentation is provided above.
What did you learn? Test how well you learnt the topic treatment safety with the test below.
Mandatory reading
The exam also includes questions from this materials. Please read the articles and other written material. It takes about 5 hours for you to read through the material.
Try to answer these questions while reading:
What is patient safety?
What are the differences between side effects and adverse events?
Why is it important to focus on adverse events?
Why should we report adverse events?
State the strategic objectives of WHO's framework for eliminating avoidable harm in healthcare.
Why is software safety important in radiotherapy?
Most software does some limited checking on newly entered data. Which problems may arise from limited checking?
---
---